Crime & Merriment Mysteries
Present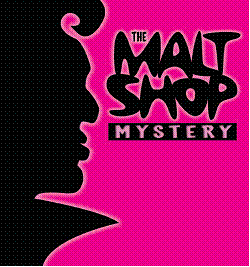 St. Mary School Gym, January 28th, 2006
Doors Open 6:00 p.m. Show starts promptly at 7:00 p.m.
$20 per person
Tickets also available in groups of 8
(Book your tables early!)
You supply the food & drinkó
Weíll supply soda, coffee & dessert
Sponsored by Pavia Council Knights of Columbus http://members.tripod.com/pavia48
For ticket reservations, e-mail BethelkofC@yahoo.com or call 744-5755 or 948-1820
Synopsis
The 1958 class of Herman H. Hittum High has gathered at Papís Malt Shop for their twentieth reunion. Although this class was unusually spirited & vibrant, this is the first time since graduation that many of the former classmates have seen each other. Most of the crowd is looking forward to the party with lots of reminiscing about the old days and of course dancing and singing their old favorite songs. You can join them and spend an evening enjoying those fifties doo-wop songs and participate in some exciting and fun interactive events with the old gang.
(Almost) all have returned to the scene of their past triumphs --- and indiscretions.
Itís almost certain that with emotions running high and old rivalries renewed, there will be tension among the group. Who knows what hidden facts from their pasts will come to light as they (and you) attempt to uncover their secrets.
You are invited to join the group and participate in the fun, adventure and mystery. Come join the Hittum High grads for dinner, music and a chance to play detective while you attempt to solve THE MALT SHOP MYSTERY.