Free Throw Competition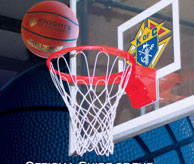 January marks the beginning of the new year and is also the month the Knights of Columbus conduct their annual Free Throw Championship. Each year, Pavia Council conducts a local competition in St. Mary's School gymnasium. Boys compete against boys and girls against girls in five age divisions: 10, 11, 12, 13 and 14. All competitors receive a Certificate of Participation. Winners in each division receive a trophy and are eligible to progress through district, regional and state level competitions. Staff at the Knights of Columbus international headquarters determines international winners in each age group from the best scores submitted by state-level jurisdictions.
Click here for 2009 results.
Click here for 2006 results.
Click here for 2003 results.