The News-Times
Young woman finds satisfaction helping people develop at Datahr
By Donna Christopher
NEWS-TIMES CORRESPONDENT
2002-10-11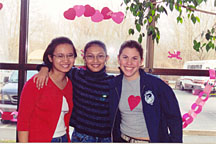 From left, Cristina Concepcion, Virya Sar and Emily Sheskin volunteered at two Datahr group homes.
Cristina Concepcion is not the type of person to watch from the sidelines. So when she met some Datahr consumers at a holiday party while she was still a senior last year at Bethel High School, she wanted to find a way to get to know them better.
Datahr helps people with developmental and neurological problems live and work in the community while they continue to grow and develop. About 200 people live in Datahr's licensed group residences, which are located throughout Fairfield and Litchfield counties, as well as in Westchester and Putnam counties in New York.
Concepcion, now a freshman at Rensselaer Polytechnic Institute, decided to organize a personal service project to help residents living in two group homes in Bethel and Brookfield.
At both places last year Concepcion and her friends spent time with the residents, organizing games and crafts and threw holiday theme parties throughout the school year. "It has really been a great experience," Concepcion said.
Some of her friends, she said, "were uncomfortable at first because they weren't used to being around people with developmental disabilities or traumatic brain injuries."
"But they ended up loving it," she added. Her mother, Pearl Concepcion, is a client account representative at Datahr's office in Brookfield.
"Most of the (staff's) children have spent time with the people we help whether it is at parties or coming to work with their parents," Pearl Concepcion said. She added that she was proud of her daughter, who despite a demanding course load – she took five advanced placement courses — "made the time to help."
"It was a lot of fun," Cristina Concepcion said. "Especially on holidays, whether it was decorating pumpkins for Halloween or painting Easter eggs."
At Bethel High School, where she was salutatorian of her graduating class in June, Concepcion received the Rensselaer Medal Scholarship for $10,000 and a local Knights of Columbus $4,000 scholarship, plus a $1,500 scholarship for children of Military Personnel.
She was a member of the National Honor Society and through it participated in other volunteer efforts during high school. In 2000 Concepcion worked on an AmeriCares HomeFront project which involved painting a building for a women's health center in Danbury. The same year she supported an athlete in a track-and-field competition for the Danbury Special Olympics. She played clarinet in her school band and was a member of the chorus, which performed at the Bethel Health Care Center.
The teen-ager and her friends are "definitely missed," said Amy Desmarais, residential coordinator at the Bethel home. "I hope she will come back and visit when she's home from college."
Not only did she organize the group from her school, but she "went above and beyond," Desmarais said. "She continued coming during the summer and always showed up to celebrate someone's birthday. She was wonderful."
Craig Foley, a life skills instructor at the Brookfield home, said the Bethel High students "were very pleasant to have around." "They were helpful, entertaining and came here more times than I can count over the past year."
Concepcion, who settled in Bethel with her family in 1994, was born at Clark Air Force Base in her mother's native country, the Philippines. The family, which includes her father, Rene and brother, Rene Jr., 14, later moved to Japan, then lived in North Dakota and Texas before moving to Connecticut.
Concepcion hopes other students from her school will think of Datahr when they want to do a community service project.
"It is a great feeling to know the time you spend with someone makes them feel good, too," she said.
Copyright The News-Times all rights reserved