1999 Scholarship Dinner
Nearly 70 Council members, guests, family and friends turned out for the 1999 Annual Scholarship Awards Dinner, which was held on Thursday, June 24, 1999 at the Stony Hill Inn. Following a reception and delightful buffet dinner, the Nino Vaghi Good Sportsmanship Award and the Bernard J. Dolan, Sr. and Arthur J. Mannion, Sr. memorial scholarships were presented to this year's recipients. The evening offered the opportunity to renew acquaintances with the 1996, 1997, and 1998 recipients of these scholarships who attended as Pavia Council guests.
Click on any thumbnail below to view a full-size image
Jeffrey Daigle
Nino Vaghi Good Sportsmanship Award
Kristin Nauheimer
Arthur J. Mannion, Sr. Memorial Scholarship
Ryan Holmes
Bernard J. Dolan, Sr. Memorial Scholarship

Judith Busch, State Commissioner for The Commission on Children, gave a delightful keynote address.

As a young mother of three with no formal education beyond High School, Judith set out on a nine-year plan that culminated with her graduation from the University of CT School of Law. She ran a successful law practice for 10 years before retiring to focus on the needs of children.

Judith remined us all that life will serve up many interesting twists and turns, but with God's help and the support of family, anything is possible.

The 1996, 1997 and 1998 scholarship recipients joined this year's honorees at the dinner. Kerri Layman (Dolan '96), who is spending the summer as an intern in Washington D.C., could not attend.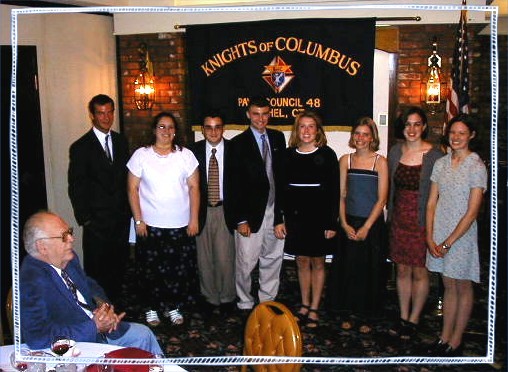 Bernard Dolan looks on as the honorees pose for photos ...
(l-r):Jeffrey Daigle, Kristin Nauheimer, Ryan Holmes, Christopher Raabe (Dolan '98), Heather Babington (Mannion '98), Sayward Parsons (Mannion '97), Denise Olive (Dolan '97), Lesley Charlene Reis (Mannion '96)